[one_fourth] [custom_frame_left]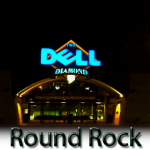 [/custom_frame_left] [/one_fourth] [three_fourth_last][pullquote style="left"]Round Rock, Texas, with a population of 104,000, is located 15 miles north of Austin in the Central Texas hill country. Major employers include Dell, TECO-Westinghouse, Dresser and Hospira. [/pullquote]The City of Round Rock is known for its award-winning master plan, park system and school district as well as for having some of the lowest crime, property tax and utility rates in Texas. Round Rock is the No. 4 Safest City with a population of at least 100,000 in the United States.
Round Rock is the eighth-fastest growing city in the nation, and one of the best-managed cities in Texas. The city has maintained high quality of life while becoming a major center for economic growth in Central Texas, with industry clusters in Clean Energy, Advanced Manufacturing, Life Sciences and Computer/Software Development. [/three_fourth_last] (Article Source)
Round Rock's thriving economic development and nationally-recognized school district make it a popular choice for young professionals and families. Just to name a few of the things you will find here: Round Rock Express minor league baseball team, IKEA, Premium Outlet Mall, international headquarters for Dell, Texas A&M Health Science Center, and world-famous Round Rock Donuts. Round Rock is a great place to live and visit.
I would love to help you find your new home or list your current home in Austin. Please view the map below to locate available homes in this neighborhood, or click the valuation tab below to assess the value of your current home. If you find something you're interested in, post it on Facebook and see what your friends and family think!
Please call me if I can be of further assistance to you.
Richard Spencer
(512) 826-4334
[divider] [one_fourth]
[/one_fourth] [one_fourth]
[/one_fourth] [one_fourth]
[/one_fourth] [one_fourth_last]
[/one_fourth_last] [divider]


[divider_top]