[one_fourth] [custom_frame_left]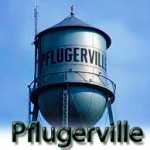 [/custom_frame_left] [/one_fourth] [three_fourth_last] [pullquote style="left"]German immigrant Henry Pfluger is the town's namesake. Pfluger brought his family here in the late 1840s, although it didn't develop into a community until after the Civil War.[/pullquote]
A school was opened in 1872 although there was no post office until one was granted in 1893. The population reached 250 in the 1890s and a small downtown developed, despite the proximity to Round Rock. When the Missouri, Kansas and Texas railroad connected Austin and Georgetown in 1904, it passed near enough to Pflugerville to ensure growth. The population soon doubled.
Several local schools merged with the Pflugerville high school in the early 1920s. Increased mobility after WWII siphoned off some of Pflugerville's population. It declined to 380 by 1949. The town incorporated in the early 1960s and the population started growing. By 1980 it had reached 662 – a small number compared to the growth it was about to experience. (Read more – Article Source) [/three_fourth_last]
I would love to help you find your new home or list your current home in Austin. Please view the map below to locate available homes in this neighborhood, or click the valuation tab below to assess the value of your current home. If you find something you're interested in, post it on Facebook and see what your friends and family think!
Please call me if I can be of further assistance to you.
Richard Spencer
(512) 826-4334
[divider] [one_fourth]
[/one_fourth] [one_fourth]
[/one_fourth] [one_fourth]
[/one_fourth] [one_fourth_last]
[/one_fourth_last] [divider]


[divider_top]