[one_fourth] [custom_frame_left]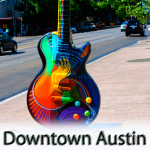 [/custom_frame_left] [/one_fourth] [three_fourth_last] [pullquote align="left]A little bit of country and a little bit of rock-n-roll, Downtown Austin is a destination for fun, food, and urban living at its finest…[/pullquote] Downtown Austin definitely lives up to its motto as the Live Music Capital of the World. Famous 6th Street features something for everyone, including the historic Driskill Hotel, horse-drawn carriage rides, Sandra Bullock's restaurant Bess Bistro On Pecan, bars, and live music from every genre in almost every storefront. In the evening hours and continuing through the early morning, 6th Street comes alive and reflects why Austinites say, "Keep Austin Weird."
Outdoor attractions include Barton Springs at Zilker Park and the majestically beautiful Ladybird Lake with its running paths, dog park, and overall spectacular beauty. Just down the street from the trendy SoCo neighborhood and all of its amenities, Downtown Austin has it all!
[/three_fourth_last]
A little bit of country and a little bit of rock-n-roll, Downtown Austin is a destination for fun, food, and urban living at its finest. You can live in a home at the top of a high-rise building or in a quaint Victorian-style bungalow, all while taking part in the laid-back, health conscious, and creative culture that is Austin.
I would love to help you find your new home or list your current home in Austin. Please view the map below to locate available homes in this neighborhood, or click the valuation tab below to assess the value of your current home. If you find something you're interested in, post it on Facebook and see what your friends and family think!
Please call me if I can be of further assistance to you.
Richard Spencer
(512) 826-4334
[divider] [one_fourth]
[/one_fourth] [one_fourth]
[/one_fourth] [one_fourth]
[/one_fourth] [one_fourth_last]
[/one_fourth_last] [divider]


[divider_top]